raiders
monuments tour
« the 56th Pennsylvania Infantry monument
This is one of two monuments on the battlefield made entirely of bronze, with a small granite base (both are Pennsylvania monuments). This type of monument requires very high maintenance. The state seal is incorporated in the bronze casting of the monument's base. In 1993, the monument was walnut shell blasted, heat treated and waxed. In 1998, it will need to be cleaned and rewaxed and minor repairs made.
• Cost of refurbishing: $1,800.

« the New York State monument
This monument has been the focus of considerable work during the summer of 1997. As of this date, all bronzework up to the 45-foot level has been cleaned and waxed. The granite components below the 45-foot level were washed. This work was accomplished with the aid of a rented hydraulic manlift. The remainder of the monument is scheduled for work September 1997, but will not include major masonry work which has not been scheduled. The decision regarding replacement of the bronze staff will be made when the equipment is in place to allow examination of the "Victory" statue at the top. A bronze statue on the top represents one of two figures in the state seal, and symbolizes the state of New York mourning its fallen men. A portion of the staff the statue holds has broken off and with it, a bronze Liberty Cap that surmounted it.
• Cost of remedial work: $38,250 for remaining materials, mobilization.
• Total remaining costs are $52,450.



departments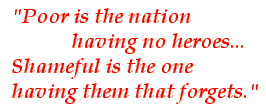 main page

tour of monuments


the next step

how you can help

media updates

contact us
Updated: October 25, 2000
Copyright: 1997, 1998, 1999, 2000
This page is best viewed with Internet Explorer.