Walk for the Monuments--Saturday, April 28, 2001--City Island, Harrisburg, Pennsylvania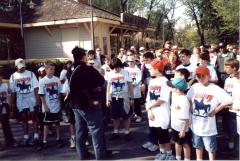 More than 100 students, parents and teachers from Herbert Hoover Elementary School in Susquehanna Township, Dauphin County, met the "Monument Challenge" on April 28, 2001, walking to raise money to help preserve three Pennsylvania monuments at Gettysburg.
The fifth-graders walked six laps around Harrisburg's City Island to stack up three miles after raising donations for the monuments. The total of the money raised came to $4,100.00--the second highest amount raised so far by any school in the Monument Challenge. Two of the monuments honor regiments--the 28th and 29th Pennsylvania Volunteer Infantry--and the third monument marks the spot where Col. Strong Vincent of Erie died during the Union defense of Little Round Top on the second day of the battle.
Presentation Ceremony--Wednesday, May 23--Cyclorama Building, Gettysburg National Military Park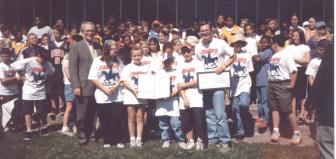 In a 10 a.m. ceremony on Wednesday, May 23 at the outdoor amphitheater of the Cyclorama Building at the Gettysburg National Military Park, the students presented two checks totaling $4,100 to the Pennsylvania Gettysburg Monuments Project spearheaded by state Rep. Harry Readshaw, D-Allegheny. The money will be placed into perpetual endowment trusts for the future maintenance of the three Pennsylvania monuments.
Herbert Hoover student Paige Hisiro--top fundraiser at $800--at Devil's Den, Gettysburg National Military Park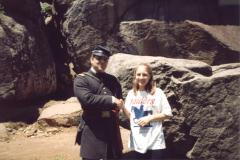 Paige Hisiro, top student fundraiser in the state, being congratulated on her efforts by Tom Marracino. Click the images on this page for larger images. Click here for the full story of Paige Hisiro's efforts.
News releases about Herbert Hoover Elementary:
»Hoover sweeps up Gettysburg monument funds
»Students walk to save Gettysburg monuments