»mission statement
»monument tour
»the next step
»our supporters
»how you can help
»school page
photos
The following two pictures are from a field trip to Little Round Top by Corpus Christi school, Chambersburg PA, on May 15. Click them for a large image. --Photos by Summer Citro.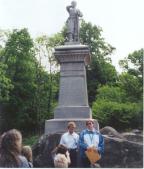 ---
Andrea Valentin of Pequea School presented a check for $255.00. She is shown here with her mother and brother. Click this image for a larger picture.


Read the story of her efforts HERE.
---
Herbert Hoover Elementary students raised $4,100. Below, the kids prepare to begin their walk around City Island, Harrisburg. Click the picture to see their photo page.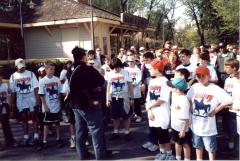 When State Rep. Harry Readshaw extended the Monument Challenge program to schools, he did so knowing that there would be interest among our students, teachers and administrators to answer the call to help preserve Pennsylvania's monuments on the Gettysburg Battlefield. That call has been answered by students from all areas of the state. Below is an honor roll of those schools that have already submitted hard-earned funds to the project, as well as links to other schools that are in the process of raising funds to help ensure that these Icons of Freedom will be well maintained for future generations.


The Monument Challenge is endorsed by the Pennsylvania State Education Association. The latest school news is available by clicking here.