»mission statement
»monument tour
»the next step
»our supporters
»how you can help
»race results
school pages:
»
main page

»W.L. Miller 5th
Grade--Mrs. Haase
»Corpus Christi
class 1A
»Corpus Christi
class 1B

»Cold Spring
K-Kids
»Herbert Hoover
Elementary
»Linglestown
Elementary
»school news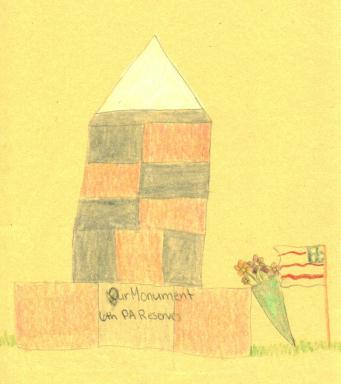 Click the monument for Mrs. Haase's Class Page.
Ninety-six fifth-grade students in Warren L. Miller Elementary School, Mansfield, Tioga County, are making sure that a monument to Pennsylvania troops on the Gettysburg Battlefield will be around for future generations. Students in Mrs. Haase's and Mrs. Allyn's classes held calendar sales, silent auctions and a walk-a-thon to raise $2,150.00 for the monument to the Sixth Pennsylvania Reserves. They got to visit that monument on a spring field trip to the battlefield, which included a tour by a registered battlefield guide. The Sixth Reserves monument was chosen because one company was from their own Tioga County, the "Tioga Invincibles."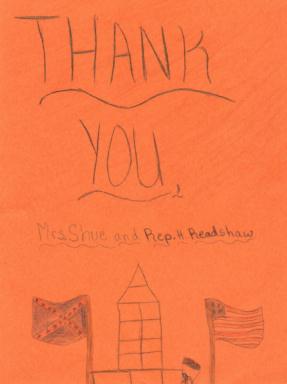 « At left is the cover of a special presentation folder made by Mrs. Allyn's class on behalf of the entire school fifth-grade, thanking Rep. Readshaw and Kathi Schue for recognizing their contribution to the Monument Challenge for schools.
Their letter:
"Dear Rep. H. Readshaw & Mrs. Schue,
Thank you for the citation you read to the class and the teachers and chaperones. We all really enjoyed it and we could all really tell Mrs. Haase did too! Thank you so much especially for letting us participate in the Monument Project, and also for giving us the wonderful books for our library. We all really liked the Gettysburg T-shirts you donated also!
All fifth graders were really proud to be able to help earn money to restore monuments in Gettysburg.
Thanks Again,
W. L. Miller Fifth Grade, Mrs. Haase's & Mrs. Allyn's classes.
• Katelyn Shughart

• Jessica Stewart "Thanks!!"

• Katie B. "Thank you."

• Stephen Wilcox

• Gale Draper

• Marybeth Eldridge

• Kenny Jacobs "Thank you."

• Michael Allen

• Dakkari Ayers "We just all loved Gettysburg. Thank you for letting us go."

• Steven Giles

• Cody Gross

• Tiffany "Thank you."

• Dereck Makley

• T. J. Persing

• Danielle Queen "We loved the speech & t-shirts; thanks."

• Brittany Schimpf "Thank you so much for letting us go!"

• Randon W.

• Cady J.

• Jordon Powers

• Samantha R. "Thank you."

• Alan Clark

• Jimmy A. "Thank you."