»mission statement
»monument tour
»the next step
»our supporters
»how you can help
»race results
school pages:
»
main page

»W.L. Miller 5th
Grade--Mrs. Allyn
»Corpus Christi
class 1A
»Corpus Christi
class 1B

»Cold Spring
K-Kids
»Herbert Hoover
Elementary
»Linglestown
Elementary
»school news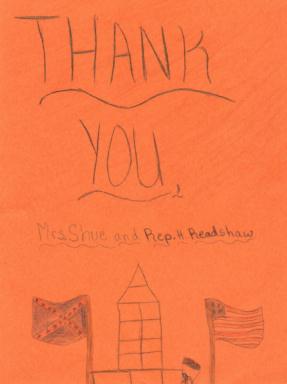 Click the picture for Mrs. Allyn's Class Page.
Ninety-six fifth-grade students in Warren L. Miller Elementary School, Mansfield, Tioga County, are making sure that a monument to Pennsylvania troops on the Gettysburg Battlefield will be around for future generations. Students in Mrs. Haase's and Mrs. Allyn's classes held calendar sales, silent auctions and a walk-a-thon to raise $2,150.00 for the monument to the Sixth Pennsylvania Reserves. They got to visit that monument on a spring field trip to the battlefield, which included a tour by a registered battlefield guide. The Sixth Reserves monument was chosen because one company was from their own Tioga County, the "Tioga Invincibles."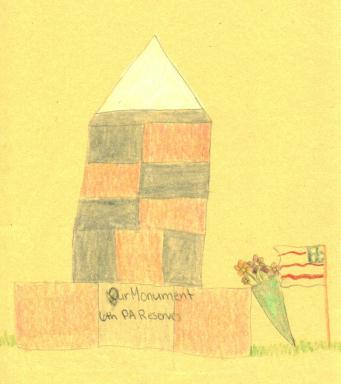 « At left is the cover of a special presentation folder made by Mrs. Haase's class on behalf of the entire school fifth-grade, thanking Rep. Readshaw and Kathi Schue for recognizing their contribution to the Monument Challenge for schools.
Their letter:
"Dear Rep. H. Readshaw & Mrs. Schue,
We appreciate you letting us participate in your monument project. We enjoyed earning money for our monument. We enjoyed seeing it at Gettysburg. We also enjoyed meeting Mrs. Schue and getting our t-shirts. Thank you for giving us the citation. When Mrs. Schue read it Mrs. Haase cried. We also thank you for the books for our library.
Sincerely,
Mrs. Haase's class & Mrs. Allyn's 5th grade classes.
• Erica Empson "Thank you!"

• Davis Fyffe

• Jeff Blair "Thank you."

• Bailee Root "Gettysburg was fun!"

• Megan Garrison "Thanks for everything."

• John Undercoffler

• Elizabeth Melancon

• Ben Adams

• Camren Smith

• Jesse Barnes "Thank you for letting us participate in the monument project."

• Beth "Thanks for everything."

• Terria Smith "Thank you."

• Malinda Baker

• Kenny Vance

• Angelica Weller "Thank you very much."

• McKayla Fuller "Thank you."

• Brittany Jackson "Thank you."

• Michael Bradley

• Ashlee Johnson

• Josh Dietrich "Thank you for everything."

• Greg Heck

• Tyler Bolt

• Eric

• Mrs. Betty Haase "Thanks a whole bunch!!"